Tue, 01/08/2013 - 09:57
Where in the World is Gérard Depardieu?
He's hard to miss these days, and in more ways than one. Gérard Depardieu -arguably France's best known and least skinny film star- is filling an annoyingly long list of headlines after heading to Belgium in self-imposed tax exile.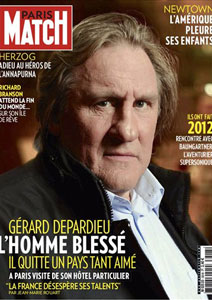 Depardieu does not seem interested in losing weight these days, but he does seem worried about all the friends he stands to shed by leaving France and renouncing his French passport. To make up for that deficit, he has embarked on a world tour aimed at finding new chums.
First stop, Russia, where he has showered President Vladimir Putin with praise for Russian "intelligence and culture", which the French actor confessed he "loves". He did not say whether he "loved" election fraud and political repression, but he did seem awfully pleased with his new Russian passport, prepared and handed to him for the occasion.
Next rendezvous: the Republic of Mordovia, where sadly there was not a passport en attente. Instead, his hosts presented him with the Ministry of Culture and a house, in a move that stands out as a particularly gracious and fair gesture by a state best known for its Soviet-era prisons.
The mammoth of French cinema is no stranger to the region. He has been handsomely rewarded for recently entertaining Uzbek President Islam Karimov, head of one of the most repressive regimes in the world, and singing a duet with Karimov's singer-businesswoman daughter who goes by the name "Googoosha".
He then popped up in Switzerland to FIFA's annual Ballon d'Or ceremony, but then went AWOL, failing to show up to court in Paris where he was facing drunk driving charges.
Now France eagerly awaits to see where Depardieu will surface next. In an exclusive, the Fuss in France has learned the next two destinations on Depardieu's magical autocrat tour:
Sunny Sudan, where he will be sworn in as Governor of Darfur and get his own oil pipeline, and thriving North Korea, where he will soon serve as supreme commander of the navy and receive an only slightly used satellite-cum-ballistic-missile.
The truth is we don't really know where Depardieu is heading next. Your guess is as good as ours, and we encourage you to play "Where in the World is Gérard Depardieu?" in the comments section below.
The hugs, the passport, the gifts, he has earned them. Just like the millions of euros won for donning nipple-high Gallic pants in the Asterix movie series -- euros that the French taxman will never touch.
His new, highly respectable friends, Depardieu deserves them too.
Comments or opinions expressed on this blog are those of the individual contributors only, and do not necessarily represent the views of FRANCE 24. The content on this blog is provided on an "as-is" basis. FRANCE 24 is not liable for any damages whatsoever arising out of the content or use of this blog.