Wed, 05/22/2013 - 13:45
Burger-rama!
I have been to more than one dinner party in France where the topic of conversation turns to cuisine typical of a region or country. Fully aware of the fate that will befall me for owning a US passport during these friendly exchanges, I patiently wait for the pummeling.

Sooner or later -but without fail- someone lands the first punch:

"zo, Joseph… Hamburgers?"

But then a slightly more vicious person will move in with a pair of well-aimed combos:
"Peanut-butter and jelly sandwich? Macaroni and cheese?"
A good sportsman may evoke Thanksgiving meals in a feigned defense of the battered American, but I know he's taking as much pleasure in the un-even exercise that boils down to this: proving French 'cuisine' outclasses American 'cooking'.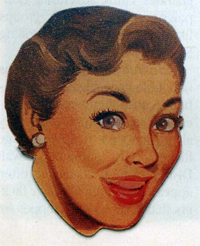 And I must say that I agree with this last statement. Arguing the contrary is useless - Betty Crocker, I implore your forgiveness.

So my bruised ego has been taking finger-licking satisfaction in watching hamburger joints pop up across France faster than smartphone apps with castrated words as names.

I LOVE hamburgers. I share a decade-old tradition with my father which consists of seeking out highly-recommended burgers, so that we can compare those shabby contenders to the mother of all burgers: a Squire's Blue Burger (which for those interested can be found in a woodchip of a town in the Hudson Valley called Briarcliff Manor).

I remember that when I moved to Paris bientot six years ago, the only decent hamburger (the José Bové Burger, to be precise) had to be searched out with the help of a map (find Les Marronniers). Now in 2013, Paris is teeming with gourmet hamburger restaurants that are making a killing on the French craving for beef and buns. It's gotten so you can't walk a few blocks without getting whacked in the face with some ground-round and a side of frites.

Places like Big Fernand, Paris New York (PNY) and Blend have sprung up over the past two years and usually boast lines snaking out the front door. And the burgers are good! They all serve up the basic mix, but have bravely dug down into French terroire and pulled out amazing cheese and topping options that make your taste buds sing (but never as loud as in Squire's).

The burger phenomenon is not limited to trendy eateries in the Marais district and comparable yupster digs.

A food truck unimaginatively christened Le Camion Qui Fume now rolls up to Parisian curbs to dispense burgers that have earned it a sort of cult following. Fans religiously flock wherever it is scheduled to appear next and keep score of sightings.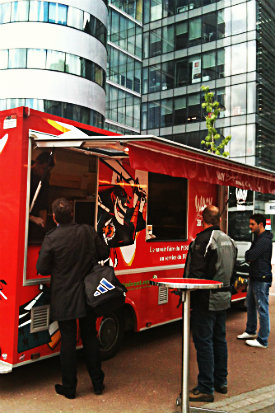 And just outside FRANCE 24 the Waggy Burgers Bus has slowly started winning over a significant clientele of my colleagues since it first opened for business this winter.

The sour note for all these places is the price tag. Yes, the burgers are delicious and I am sure the cut of cow is top notch, the sauces are imaginative and the fries golden delights, but I am still uncomfortable paying an average 17 euros for what is, at the end of the day, a sandwich.

Not that you can't find a burger for less than 17 euros in Paris, and that brings me to my next point:

Browse any menu at any brasserie in France nowadays and you are almost guaranteed to find a burger option on it. There may not be Soupe à l'oignon or Tartare de bœuf –menu fixtures in a not so distant past– but there will be Cheeseburger. The form and flavor of those brasserie burgers vary widely, but the fact they have so successfully invaded that proud territory is remarkable.

I say remarkable, but some may say sad. Isn't this just another example of Empire at work? Of Wall Street standardizing the world's pallets and encouraging cattle mega-farms that bring us ever closer to climate apocalypse?

Maybe, but I still love burgers. And love propping up the burgerama trend when I feel the ropes at my back during those dinner parties.

I also like to point out the fact that some French have secretly loved and admired America's unrefined but flavor-packed plates for generations. A US diplomatic cable dating from 1974, recently made available by Wikileaks, revealed that former President Jacques Chirac had "a taste for American cooking" and "used to come to the embassy incognito in order to eat what he considered 'real American food' when he was prime minister."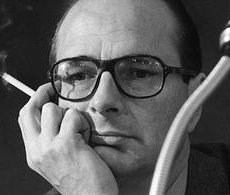 Chirac probably needed to keep his lunch breaks undercover because, brace for the horror of the next sentence, acknowledging you liked a burger in the 1970s in France was considered a political liability.

But what is even more interesting is the ambassador's emphasis on "REAL American food", which can only mean other French people were out there grilling and peddling the stuff, probably also incognito, but had not yet mastered the art.
Comments or opinions expressed on this blog are those of the individual contributors only, and do not necessarily represent the views of FRANCE 24. The content on this blog is provided on an "as-is" basis. FRANCE 24 is not liable for any damages whatsoever arising out of the content or use of this blog.