Sun, 10/20/2013 - 16:03
Naming bébé
Think you know what the most popular baby names are in France? Think again.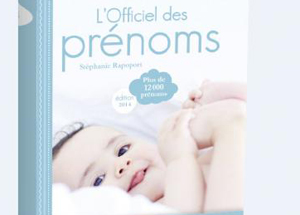 The annual roundup of names most often given to French babies has just appeared, and Juliette, Brigitte, François or even Pierre are nowhere near the top of the list.

"L'Officiel des prénoms 2013", compiled by author Stéphanie Rapoport using statistics from France's official INSEE demographics research institute hit bookstores on October 18, and these are the results:

For girls, the "in" names in 2012 were:
1. Emma
2. Lola
3. Chloé
4. Ines
5. Léa

"Add a sixth letter or a third syllable and she'll be the laughing stock of the schoolyard," French parents were apparently telling themselves all last year.
For les garçons the winners were:
1. Nathan (Pronounced in French as if there was no H)
2. Lucas (Pronounced in French as if there was no S)
3. Léo
4. Gabriel
5. Timeo
Again, it seems French folks are going for short and punchy these days. The lists go on for both girls and boys, but how fair would it be to Mrs. Rapoport to print them all here?
It's interesting to note that Emma and Nathan were also last year's most popular names, and according to Rapoport, they should be at the head of the class for years to come.
My takeaway: three decades from now, look out for a mess of odd "Léo and Lea" couples settling down to make their own baby cubs.
Comments or opinions expressed on this blog are those of the individual contributors only, and do not necessarily represent the views of FRANCE 24. The content on this blog is provided on an "as-is" basis. FRANCE 24 is not liable for any damages whatsoever arising out of the content or use of this blog.