Thu, 07/28/2011 - 14:32
Rebranding destination France
What images do La Marianne, The Loire Valley and Gewürztraminer bring to mind? Probably none, unless you were born in France or spent significant time here. But this trio forms the new mantra of tourism ministry chief Frederic Lefebvre. He wants visitors to spend more time in France and could soon be in a town near you with the following message: There is more to see in France than the Eiffel Tower and the picturesque urban sprawl around the monument's base.

And there is another image that worries Lefebvre even more. That is, that of the haggardly restaurant waiter whose main job consists of ignoring and sneering down hungry customers in equal measure.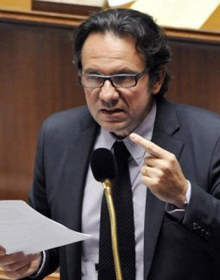 "We would like to make a strong effort to improve the sense of welcoming in France," Lefebvre told a group of tourism professionals in New York this month, according to budgettravel.com. "We are number one in the world in terms of the number of tourists (76.8 million in 2010)…But, in terms of sales, we are very far behind the US," he lamented.

In other words: "Sorry we're rude. But can you give us more money?"

While people who actually visit France go home with few, if any, stories of French rudeness, Lefebvre is going around adding credibility to the fable. The diversification-accommodation combo is at the core of the ministry's new marketing strategy, and its website, rendezvousenfrance.com.

Conspicuously absent from the website are pictures of the Eiffel Tower, the Seine, chocolate éclairs and Marcel Marceau-like mimes. Figuring prominently are provincial capitals, UNESCO World Heritage sites, summer festivals and regional vineyards. That and videos of the smiliest people you ever saw.

But as the website battles preconceptions of rudeness it is also hurting the image of French savoir-faire. Dizzying videos and poorly translated text is bound to leave potential tourists baffled as to what they might expect from a trip here.

A sample from the website:

"Montpellier: Discover a city in turmoil and sites are among the most prestigious World Heritage". Does that mean we'll be watching a "Medieval Times" show done on a massive scale?

or,

"Nantes: Recognised as European capital of good living, between the westerly winds, scents of iodine and salt and light of the Loire, Nantes recounts his maritime adventure" Should we expect story time with a retired boat captain with one eye and an aversion to soap?

The tourism ministry may in fact succeed in changing ideas about French hospitality, but in unexpected ways. If foreigners start spending more vacation time off the beaten track in France - and if they manage to survive the pitchfork battles in Montpellier - they will certainly meet more French nationals. That may do more than any marketing ploy ever could to bury the reputation of that rude Parisian waiter.

Tags for all blogs :
Comments or opinions expressed on this blog are those of the individual contributors only, and do not necessarily represent the views of FRANCE 24. The content on this blog is provided on an "as-is" basis. FRANCE 24 is not liable for any damages whatsoever arising out of the content or use of this blog.