Tue, 12/31/2013 - 10:42
What the French got this Christmas: 2013 consumer trends
France's economy narrowly escaped a double-dip recession in 2013 and was on course to a return to
meek growth
as the year came to a close.
So who is reaping the very modest benefits of the slowly recovering economy? As in
2011
and
2012
, I would like to offer a quick overview of significant French consumer trends from the past year. From a rising number of Nipponophiles to a hipster Belgian rapper, 2013 threw a few surprises at French businesses.
The travel bug
French people bought 12% fewer flights this year in comparison to 2012 – but that does not mean they were necessarily moping at home.
In terms of international travel,
Morocco
and
Tunisia
remained the preferred destinations for French tourists, according to the association of French travel agencies SETO. But both North African countries actually saw a cool off in the number of French people tanning in their resorts.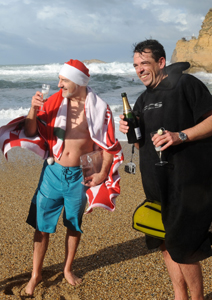 The new hot spot for holidays in the Mediterranean is the Italian island of
Sardinia
, which saw a 45% jump in the number of French tourists this year. Adventurers also charted off in growing numbers to
Jamaica
(+43%) and, quite unexpectedly,
Japan
(+59%).
While the French made fewer flight reservations on the whole, sales for domestic plane tickets soared by 12% – reflecting the competitive drive of low-cost airline companies that often sell flights between big cities for less than the price of a rail ticket.
Contacted for this article, the national SNCF rail company said it never divulges figures on rail traffic or the French cities most popular among travellers.
Figures from SETO suggest that the French are not ditching vacations for staycations, but rather setting their sights closer to home before they hit the road.
Which brings us to the auto industry. It was another difficult year for French carmakers and salesmen, with around 7% fewer new cars sold between January and November 2013, as compared to the same period in 2012.
French firms Renault and Peugeot continued their usual duel for top bragging rights. The compact
Renault Clio IV
was the top selling model in France this year, followed by the
Peugeot 208
. The more spacious
Renault Scenic
, a comfortable fit for
baby-loving French families
, rounded out the podium.
Sex sells, but not at the box office
While there was plenty said in 2013 about
Blue is the Warmest Colour
( or
La Vie d'Adèle
as the film is known in France), a steamy lesbian romance that won highest honours at the Cannes Film Festival in May, it was not embraced by throngs of French moviegoers.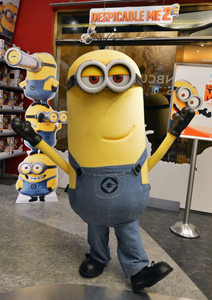 The computer-animated
Despicable Me 2
(
Moi, Moche et Méchant
), a Franco-American production featuring the hilarious Minions, sold more than 4.6 million tickets in France, more than any other movie this year. It was followed by super-hero blockbuster
Iron Man 3
.
As controversial or inspiring as Adèle's tale of first love and first heartbreak was, the film did not even break into the top 50 in terms of box office sales.
In terms of books, the erotic romance
Fifty Shades of Grey
popped up in last year's consumer review, but swelled futher in 2013.
The French translation of
E.L. James
' S/M-infused trilogy was a favourite last year among French owners of e-readers like Kindle and Kobo. The book continued its onslaught this year, storming into traditional bookstores and Amazon.fr too.
Other bestsellers in France were
Pierre Lemaitre
's novel
Au revoir la haut
, a raw depiction of the physical and moral aftermath of World War I that won the prestigious Prix Goncourt in November, and
Asterix and the Picts
, the 35th instalment of the world-famous comic book series.
Not so 4G
The airwaves were dominated by a pair of electronic music hit-makers and then a skinny Belgian rapper.
Daft Punk
, the Parisian duo that gained global fame with the 1997 tune
Around the World
, was back in 2013 with a new album.
Random Access Memories
was unveiled in May and simultaneously conquered French, US and UK charts overnight. Over 500,000 copies have been sold in France, and it was the most sold album on iTunes.
More impressive perhaps was the success of the album's single
Get Lucky
, which sold close to 350,000 copies just on its own. It was also the highest grossing single on iTunes in France this year.
The American-Canadian
Robin Thicke
's R&B hit
Blurred Lines
also made a killing in France, selling over 286,000 copy singles.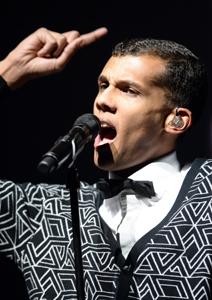 But the biggest winner in the music category was Belgian singer/rapper
Stromae
. His second album
Racine Carrée
appeared only in August, but has already sold over 850,000 copies in France. The skeletal 28-year-old flirts with contrasts, mixing his cruel lyrics with upbeat dance rhythms, a carefree demeanour with his prep-school-like wardrobe.
iCoyote
, a tool that helps drivers spot and elude speeding radars on the road, was the best-selling application for iPhone in 2013, while the puzzle video game
Candy Crush Saga
was the most downloaded free application for iPhone and iPad this year.
Finally, 2013 was supposed to be remembered in France for the rollout of 4G LTE wireless services, but the French have been slow to merge into the new high-speed data highway for mobile devices.
An opinion poll published in October showed that a whopping 75% of French people expressed no interest in upgrading to 4G services.
Nevertheless, the mobile telephone market is a brutal battleground these days, with established operators
SFR
and
Orange
desperately trying to stall a blitzkrieg from mobile newcomer
Free
. Slashing prices and foregoing contracts, Free won 640,000 new customers just in the third quarter of 2013 – three times more than SFR and almost five times more than Orange.
Comments or opinions expressed on this blog are those of the individual contributors only, and do not necessarily represent the views of FRANCE 24. The content on this blog is provided on an "as-is" basis. FRANCE 24 is not liable for any damages whatsoever arising out of the content or use of this blog.