Tue, 08/07/2012 - 08:52
From tennis to pop star, Noah is No.1 in the hearts of French
Olympic champions Michael Phelps and Usain Bolt have been wowing audiences across the globe with their exploits at the London Games. And France may have found its own sports darling in 20-year-old swimmer Yannick Agnel, who won two gold medals and one silver at the Olympics. But it is another Yannick who continues to conquer the hearts of the French.
Yannick Noah, 52, who rose to prominence as a lanky Franco-Cameroonian tennis star and was the last Frenchman to win the French Open in 1983, has just been crowned France's most popular public figure for the fourth straight year.
Ironically, many in the United States are probably more familiar with Noah's son, Joakim, who is a center for the NBA's Chicago Bulls.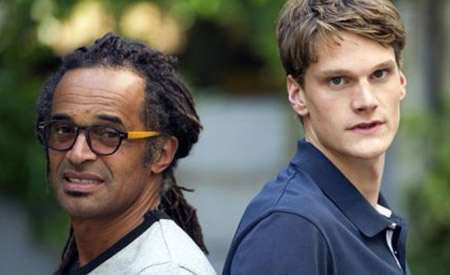 The aforementioned swimmer Agnel (pictured right) was, in fact, named in part after Yannick Noah(left). Agnel's father is a big tennis fan and loved watching Noah play in the 1980s and '90s. Noah may no longer have game, but he has kept the fans. In part because he reinvented himself as a full-time pop singer from 2002 and has experienced relative success on stage.
According to a survey by the polling agency Ifop – which conducts its "50 most popular French people" inquiry twice each year – Noah was cited as the most likable public figure by 37.9% of all respondents. It is the ninth consecutive time he finishes at the top of the list. Sing on Yannick!
The popularity contest includes a wide range of people, including television and film personalities, musicians, athletes and even politicians. French President François Hollande has created a stir this year by finishing in 15th place, but more on him later.
Funny gets you fans in France, Ifop's survey would seem to indicate. Six of the names in the Top 10 belong to humorists or comedy actors. Jean Dujardin, who rose to fame outside of France for his role in the Oscar-winning film "The Artist", came in 3rd place.
So what does it take, besides a good punch line, to win over French hearts? For one thing, testicles. (Or does that count as two things?) Interestingly, and revealingly perhaps, 80% of the people on this "50 most popular" list are men.
What does that say about French society? I have some ideas, but as a man and as a Yank, I'm not wandering into that minefield.
For all of Yannick's likability and his winning streak, he is still running behind two other popularity heavyweights. Oceanographer and TV personality Jacques Cousteau and the Catholic priest and poverty activist Abbé Pierre, who died respectively in 1997 and 2007.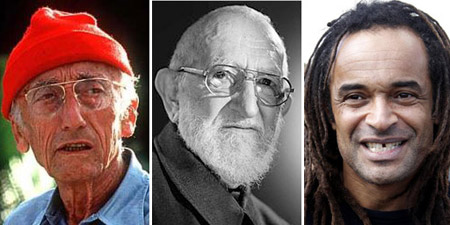 Did you hear the one about the scientist, the priest and the singer? If you crack the code and figure out what makes these three very different people so loved in France, please let me know the answer. It may have something to do with career changes. All of these guys have amazing and multi-faceted resumés.
So about Hollande: he turned heads by sneaking into the Top 15 this time around. In 1988, when the study was first launched by Ifop, then president François Mitterrand came in 3rd place. But it has been downhill for presidents since then. Ex-president Jacques Chirac came in 31st place once in 1995 and successor Nicolas Sarkozy tasted 25th place in 2007.

In all four cases the French presidents have graced the most-popular list at the very beginning of a presidential term (in the case of Mitterrand, it was the beginning of his second term). A real victory for Hollande would be to hang in there for all, or even most, of his time in office.
Comments or opinions expressed on this blog are those of the individual contributors only, and do not necessarily represent the views of FRANCE 24. The content on this blog is provided on an "as-is" basis. FRANCE 24 is not liable for any damages whatsoever arising out of the content or use of this blog.