Mon, 10/17/2011 - 17:01
The comeback kid
French Socialist MP François Hollande won the first round of his party's presidential primaries on October 9 with 39% at the ballot box. On that day he received some 975,000 votes. In the runoff poll the following week more than 1,600,000 French citizens got behind Hollande and made him the main opposition candidate running against incumbent president Nicolas Sarkozy in next year's election. Hollande is the man of the hour.

It wasn't always so.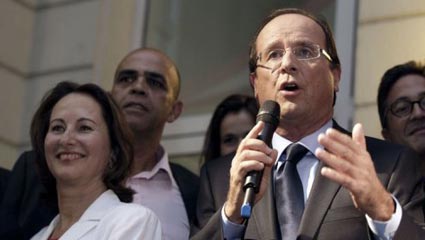 Never named to an important ministry in his political career, Hollande is best known for being the Socialist Party chief from 1997 to 2008. It's a dark period in the French Socialists' history, in which they were battered at almost every poll, including the ignoble 2002 race in which the far-right National Front party finished ahead of them in first round of the presidential election.
Even though he was his party's leader for more than a decade, he was never given the opportunity to run as the group's presidential candidate. In 2007, his then partner Segolene Royal was chosen to represent the Socialists in presidential poll, and she ran a campaign that was largely disconnected from the party he directed.
The couple then split just a month after Royal's defeat to Sarkozy. It was reportedly to be a less than cordial au revoir that led to a venomous post-breakup relationship.

When Hollande lost his post in 2008, he left the job on bad terms with just about everyone of importance. His successor, Martine Aubry, slammed the door behind him, called him the "First Secretary of the lost time (temps perdu)" and said that when he left the walls at the party's headquarters were dirty and the toilets backed up.

Fast-forward to October 16, 2011. Exterior. Evening. Spotlights illuminate front steps of the party's HQ in Paris.

François Hollande -Socialist Party presidential candidate- raises his arms in victory. At his side Martine Aubry applauds then kisses him on each cheek. A bright-faced Segolene Royal joins them, another pair of pecks. The rest of the party heavyweights gather around. The media tightens in, camera flashlights popping insatiably.

Hollande is the comeback kid. But with less than six months before the first round of the presidential poll, and the frontrunner according to opinion polls, Hollande is now also the man to beat.
Comments or opinions expressed on this blog are those of the individual contributors only, and do not necessarily represent the views of FRANCE 24. The content on this blog is provided on an "as-is" basis. FRANCE 24 is not liable for any damages whatsoever arising out of the content or use of this blog.