Fri, 10/14/2011 - 11:09
Socialist primaries: Lessons in the art of seduction
Should the left in France be hard, or just solid?

According to presidential hopeful and Socialist Party chief Martine Aubry, the left needs to stiffen up to battle back from five years of President Nicolas Sarkozy's right-wing tenure. It's no time for Hollande's "limp" left.

No, former party chief and rival candidate François Hollande, retorted, France needs to rediscover stability after the 2012 presidential election. A "solid" left will do.

The last debate between the two remaining candidates in the Socialist presidential primaries was watched by a whopping 6 million viewers on Wednesday night. Many of them were left wondering why all the sexual innuendo. Would Socialist MP Arnaud Montebourg – who finished a surprise third in the first round of the primaries – suddenly show up and call for a menage a trois in Sunday's poll?

Innuendo was definitely at work in Wednesday's hard vs. solid debate, but alas, it was the political kind. Sunday's Socialist poll could produce a nail-biting finish, and the careful joust of words between Aubry and Hollande speaks volumes about the candidates and their rivaling strategies.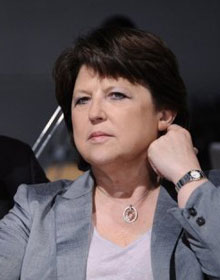 Fishing left of the Left

Aubry has consistently trailed Hollande in opinion polls; that gap was confirmed when she came in second in the first round of the primaries. But the vote also held an unexpected twist: Montebourg, the Socialist considered farthest to the left ideologically, came in third with an impressive 17% of votes.

Aubry therefore has but one way (short of stuffing ballot boxes) of pulling off a come-from-behind victory in the runoff: she needs to convince those Montebourg lefties, even if Montebourg himself said he is voting for Hollande, that she is the candidate that most closely resembles him.

Besides calling for a "strong" left, Aubry said during the debate that Montebourg's political program was "90% the same" as hers. She also called for a big group hug between all those who consider themselves leftists and Greens.

The big dance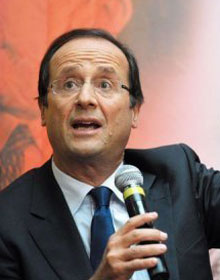 Hollande is singing a very different tune. Where Aubry is focusing on charming voters by flaunting her leftist values and experience, Hollande is trying to convince them he has the best chance of beating Sarkozy in the long run. Opinion polls back this argument – Hollande consistently fares better than Aubry when pit against Sarkozy in surveys.

Since he started campaigning Hollande has favored molding the right image over the right political platform. The self-styled "normal" man of French politics says he wants to reinvest the French presidency with the solemnity and sagesse he says Sarkozy has spoiled with his hip-shooting brashness.

His inclination for a "solid" left is in fact a wink to centrists and independents, but it is also a call to leftists to delay gratification – to look beyond the party's primary and doll up for the big dance in 2012.

So while Aubry and Hollande are not exactly sexing up the stage, they are certainly on a mission to seduce the electorate. Sunday's primary poll should let us know what kind of sweet talk rubs the French left the right way.
Comments or opinions expressed on this blog are those of the individual contributors only, and do not necessarily represent the views of FRANCE 24. The content on this blog is provided on an "as-is" basis. FRANCE 24 is not liable for any damages whatsoever arising out of the content or use of this blog.