Sun, 07/10/2011 - 16:06
Parisushi
For a brief moment this year it seemed like the Fukushima nuclear crisis in Japan would spell disaster for sushi restaurants in France.

Images of the fuming, beach-side reactors turned into fear of radioactive fish, seaweed, even Kirin beer, and some French dropped the chopsticks faster than you can say maki.

Would this be the end of the Sushi craze that had started in France some ten years ago? Would the radioactive vague kill the sushi vogue?

Nai.

In fact, very few French gave up downing those tasty morsels of raw fish, even during the height of the Fukushima fright. According to a report by the Journal de Dimanche weekly, sushi sales slipped by 10% in April, then bounced right back.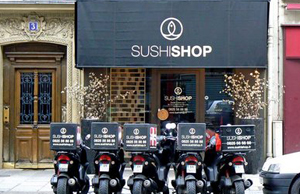 Sushi has conquered the hearts and bellies of Parisians, and is now a fixture of their eating habits. Businessmen know it.

Besides all the independently owned Japanese restaurants offering sushi a la carte, many Chinese restaurants have reconverted to the sushi persuasion. And two made-in-France sushi chains –Sushi Shop and Planet Sushi- are now battling it out for the yokozuna's share of the market.

According to Journal de Dimanche, Planet Sushi is launching three new eateries in Paris this week and Sushi Shop is adding a new address in Paris 16th arrondisement. It already counts two others in the same neighborhood.

Perhaps the surest sign that France has made sushi its own: the culinary syncretism at display at places like Sushi Shop and Sushi Planet. Their menus include fois gras and Nutella rolls, tartare wrapped in cucumber slices, and goat cheese inari.
Sushi sliced for distinctly Parisian pallets.

Tags for all blogs :
Comments or opinions expressed on this blog are those of the individual contributors only, and do not necessarily represent the views of FRANCE 24. The content on this blog is provided on an "as-is" basis. FRANCE 24 is not liable for any damages whatsoever arising out of the content or use of this blog.