Tue, 05/31/2011 - 07:39
Road Rage
The French have the reputation of being bad drivers. As a driver here, I am a daily witness to an acute aggressiveness that possesses a majority of French - even the mild mannered – when they get behind the wheel. Speeding and cutting off other drivers becomes their raison d'être as soon as they squeeze into their playmobile-sized cars.

Now a row over road sings is threatening to turn this dangerous reflex into a full-blown public security crisis.

The government of President Nicolas Sarkozy came up with an idea to reduce rampant speeding: remove the road signs that since 2003 have tipped off French motorists to the location of speeding radars.

That these official signs ever existed is incredible, but admittedly, I appreciate them: they allow me to slam on the breaks of my Peugeut 207at the appropriate intervals and get back to breaking the law without fear of ever incurring a speeding ticket.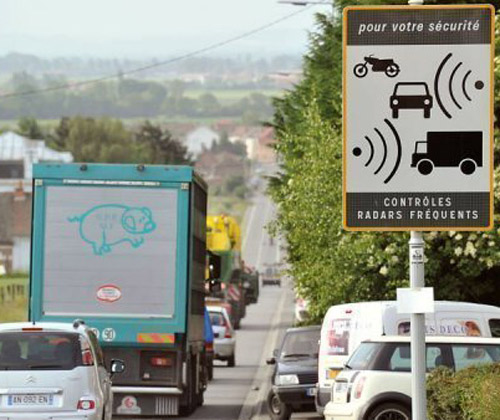 (Sign: "For your safety, frequent radar controls up ahead")

Like me, some French motorists have reacted to the news with concern. Others with indignation. The proposed road sign ban has encouraged 14 different groups that represent French motorists to join forces and stage a day of protests on June 18. Their goal is to "denounce a government policy that is repressive, inadequate and unjust."

According to a poll conducted by the free daily 20 Minutes, 60 percent of French believe the government is removing the signs warning motorists of speeding radars in order to bring in more revenues for the state.

But the measure really ran into trouble when a majority of Sarkozy's own MPs at the National Assembly would not get behind it last week. Apparently lawmakers care as much about driving over the speed limit as the rest of us.

After the MPs cried foul, the government said it would repeal the measure, then it said it would replace the road signs with "educational" signs, then it went back to saying they were coming down, and then that the signs would be replaced with new "danger zone" signs… maybe.

The result is that with just a few months before the road signs are removed (or not?) motorists in France don't know whether to slow down, speed up or take the bus. It's enough to make you want to run somebody over.

Tags for all blogs :
Comments or opinions expressed on this blog are those of the individual contributors only, and do not necessarily represent the views of FRANCE 24. The content on this blog is provided on an "as-is" basis. FRANCE 24 is not liable for any damages whatsoever arising out of the content or use of this blog.