Tue, 05/31/2011 - 11:08
The growing menace of the center
There is one thing that scares President Sarkozy more than when First Lady Carla wears high heels to an official gathering. At all costs, the pint-sized chef d'etat wants to avoid fighting a two-front war for his UMP party's voting base when he runs for re-election next year.

The far-right has already come out swinging. National Front candidate Marine Le Pen, who has been ahead of Sarkozy in every opinion poll since February, held a meeting on April 20 to denounce the president's failed promise to increase people's purchasing power. In fact, the National Front rarely takes a breath these days from attacking Sarkozy and his ruling centre-right UMP party. It even won over many conservative voters who usually vote for the UMP in local elections last March.

Now the drums of war are being heard from the political center. On Tuesday the regional daily "La Voix du Nord" published a telling interview with potential candidate Jean-Louis Borloo. Unlike other centrists threatening to make a run for the presidency in 2012 (which includes, but is not limited to, former prime minister Dominique de Villepin, green Nicolas Hulot and MoDem party chief François Bayrou), Borloo was until recently a close Sarkozy ally and remains a well-liked figure within the UMP's ranks. After being denied the post of prime minister earlier this year, Borloo quit the UMP in April and has since allied other centrists around him.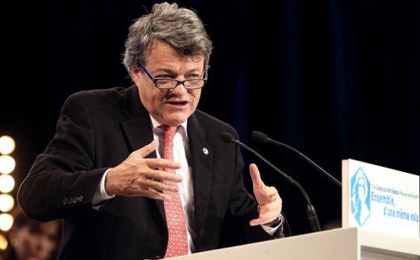 (Image: Borloo tells supporters, "we're going to squeenze out Sarkozy like this!")

His candidature remains unofficial, but his interview in "La Voix du Nord" has left little doubt among French analysts that Borloo plans on challenging Sarkozy for La Republique's highest office.

"I'm getting ready to win!" Borloo, 60, told the newspaper, adding that it was still not time to announce his bid.

"I've been getting ready for this possibility for years, and I have the feeling that it's the right moment, that the presidency will be won by the person who can best anticipate the changes in French society and who will meet those expectations," he added.

Those sound like fighting words to me.

But in mcluhanesque fashion, the interview's delivery may have been even more significant than its words. On June 4, 1994 Jacques Chirac announced his candidature for the presidency in the same daily. Chirac went on to pull a major political upset by finishing ahead of favorite Edouard Balladur in the first round of the 1995 elections. In May of the same year Chirac was the new president.

According to French journalist Jean-Francois Achilli, Borloo has also made a certain Frédéric Salat-Baroux his campaign manager. Salat-Baroux happens to be Jacques Chirac's last chief of staff at the Elysée presidential palace, and since February, Chirac's son-in-law.

If Borloo can steal away the UMP's centrists (as he has already done with the former junior ministers Rama Yade and Yvers Jego), and seduce Chirac loyalists within the party, President Sarkozy will be facing his very own Peninsular War next year.
Tags for all blogs :
Comments or opinions expressed on this blog are those of the individual contributors only, and do not necessarily represent the views of FRANCE 24. The content on this blog is provided on an "as-is" basis. FRANCE 24 is not liable for any damages whatsoever arising out of the content or use of this blog.