Thu, 05/05/2011 - 11:23
World's best bread finds new home
The results are in and a new shrine for baguette devotees around the globe has been founded. The best bread in the world can now be found at 6 rue des Abbesses, in beautiful Montmartre, Paris.

City hall has announced that Pascal Barillon, 52, is the winner of this year's Best Baguette in Paris Grand Prize. The Ecnarf ni Ssuf algorithm can be applied to prove that Barillon's 250 grams of baking perfection is also the Best Bread in the World.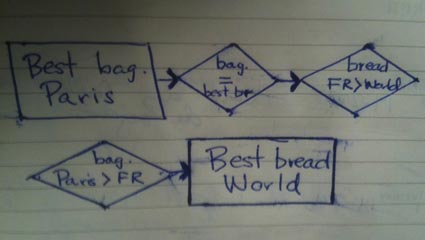 Barillon's beat out 173 other competing baguettes. The top prize includes 4,000 euros, the honor of furnishing the Elysée presidential palace with bread for one year, but above all, bragging rights until the next competition: "Bonjour, I'm Pascal. My bread is better than yours."

Over the next year, hundreds of thousands of French people will seek out Mr. Barillon's bread to confirm the jury's choice, or just out of curiosity. The fanatics will want to compare this baguette to the one baked by Mr. Djibril Bodian, last year's winner, who luckily works just a few paces north on rue des Abbesses, at number 38.

In fact, four of the last five Best Baguette in Paris Grand Prize winners have been Montmartre bakers, which is fast turning the picturesque "butte" into the Mecca of baguette.
Tags for all blogs :
Comments or opinions expressed on this blog are those of the individual contributors only, and do not necessarily represent the views of FRANCE 24. The content on this blog is provided on an "as-is" basis. FRANCE 24 is not liable for any damages whatsoever arising out of the content or use of this blog.