Fri, 11/11/2011 - 23:09
Green provocateur
While French President Nicolas Sarkozy marked this year's Armistice Day (Nov. 11) with the traditional laying of a wreath at the tomb of the unknown soldier under the Arc de Triomphe in Paris...

...and while Francois Hollande, the Socialist Party candidate and frontrunner in next year's presidential elections, attended a solemn ceremony at a military cemetery in the Marne region that was devastated by the Great War...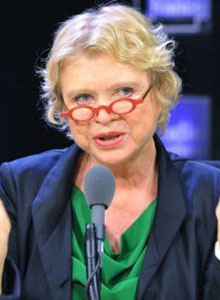 ...and while most of the French took advantage of the day off to catch up on daytime television...

Green party presidential hopeful Eva Joly called on France to dump the annual day of remembrance in honor of World War I veterans and replace it with a new "European Day of Peace".

At an event held near the Eiffel Tower, Joly paid homage to WWI mutineers, French soldiers who refused to fight, and who were sometimes executed by firing squad as an example to other soldiers thinking of laying down their bayonets.

"I would like… that we stop thinking that Germany lost the war, and France won it, and that we concentrate on what's most important: European hope," Joly said, insisting her action was not meant as an affront to other soldiers.

The call for the holiday switcheroo instantaneously transported the French back four months to Bastille Day, when Joly caused a mini political storm by suggesting the holiday's traditional military parade should be swapped out for a "citizen's parade".

At that time Prime Minister Francois Fillon, an ally of Sarkozy, responded to Joly's statement by suggesting the Green party member was not really fully-fledged, rouge-blooded French. "I think that this lady does not have a very deep culture of French tradition, of French history and French values," Fillon retorted.

Implicitly Fillon was taking a swipe at Joly's dual Norwegian-French citizenship.

I want to give Eva Joly the benefit of the doubt and believe that her Bastille Day and Armistice Day ideas are guided by a sincere and forward-thinking antimilitarism bent, but most people here are starting to get annoyed with what is coming off as a phoney attention-gathering strategy.

Many were wondering what holiday she'll want to scrap next. Make Easter Sunday "European Recycling Sunday" and May 8 (V-E Day) "World Compost Day"?

Most French are not naturally inclined to dislike Eva Joly, but she is getting on their nerves.

They are wondering about the utility of her glasses, which she always seems to wear three-quarters of the way down her nose. Like her calls for holiday swaps, what the hell are they good for?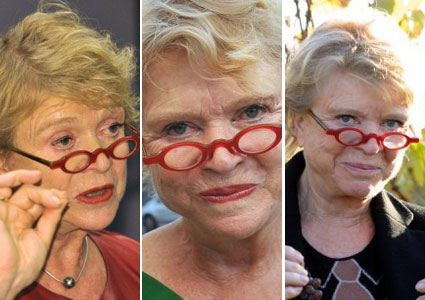 Comments or opinions expressed on this blog are those of the individual contributors only, and do not necessarily represent the views of FRANCE 24. The content on this blog is provided on an "as-is" basis. FRANCE 24 is not liable for any damages whatsoever arising out of the content or use of this blog.